Yulung Paint Manufacturing Co., Ltd.

ESTABLISEHD IN 1979
Yulung Paint Manufacturing Co., Ltd. was established in 1979, first focusing on the production of waterborne pigment paste and wooden stain with highest market share in Taiwan. In 1983, Yulung Paint launched its first brand "Kingcat" into the market, emphasizing on the development and research of professional waterproof materials. Today, Yulung Paint is considered as one of the leading paint manufacturer in Taiwan.
Yulung Paint is actively developing its global operations and has set up many sales offices around the world. Currently, the company is headquartered in Taoyuan, Taiwan and has sales offices in Taiwan, China, Hong Kong, Macau, Korea, Singapore, Malaysia, Philippines, Vietnam, Myanmar, Indonesia and other countries. Due to the growing demand for production and sales, Yulung Paint has established a second factory in Taoyuan, Taiwan and a China sales headquarters in Dongguan, Guangdong Province. During the same period, Yulung Paint's Dong Nai plant in Vietnam was completed and officially put into production operation.
Yulung Paint has always maintained strict requirements for technology development and manufacturing quality, and has actively joined the supply chain of environmentally friendly building materials. We have a comprehensive product core and have worked with Chemours, 3M, BASF, Dow Chemical, Dow Corning, BYK, Clariant, Wacker, Evonik and many other international suppliers for many years. Yulung Paint always keeps abreast of trends and pursues innovative growth with a forward-looking strategy; we also continue to cooperate with well-known domestic and foreign industries to conduct independent technology research and develop new products and businesses according to market and customer needs. In the future, we will continue to build on our excellent manufacturing technology and diverse customer base, while actively grasping new opportunities in the industry to create a new milestone in corporate development.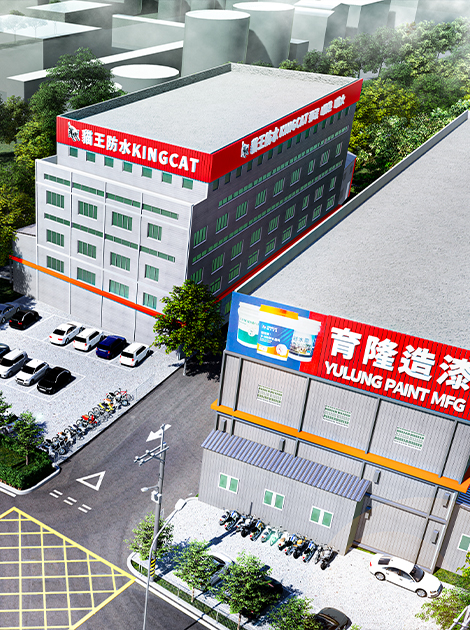 We will continue being pioneers in everything we do, with a focus on constant growth and improvement of our people, our services, and our potential.
We believe in delivering quality, innovation, and leadership for all stakeholders in the industries we serve.
We have dedicated years of expertise, commitment, and resources to developing world-class construction solutions that empower people.
We have dedicated years of expertise, commitment, and resources to developing world-class construction solutions that empower people.
Maintaining a collaborative atmosphere ensures that teamwork is a core value at Yulung Paint. By sharing, communicating, and cooperating with one another, we maintain a positive and bonded connection as a team.
The ability to trust and to be trusted is absolutely essential to the way we conduct ourselves. We make sure that we are responsible and dependable in all we do. We hold ourselves to a standard of honor and honesty.
Your satisfaction is very important to us. If you have any question about our products or services, or any other comments and suggestions, please feel free to contact our customer team.